 Solid / Enduro / 156, 160, 164
Split / Enduro / 156, 160, 164
Split / Pro Carbon / 156, 160, 164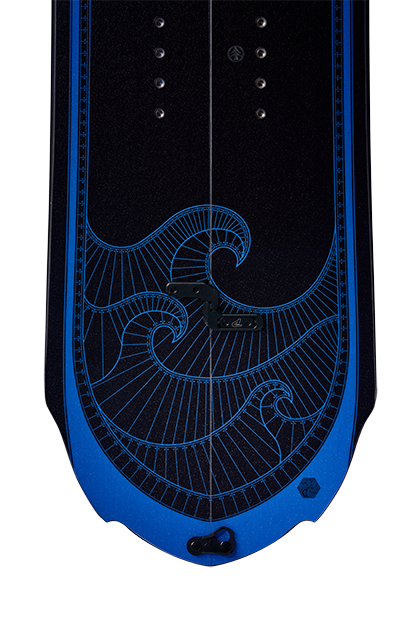 Solid Enduro 156, 160, 164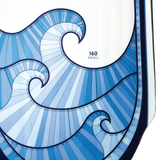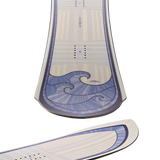 Split Enduro 156, 160, 164
Split Pro Carbon 156, 160, 164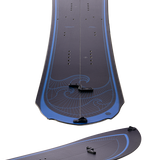 The Cardiff Swell is a big-mountain gun that lives for the steep and deep but still holds it's own in variable, in-bounds conditions.
shipping by Nov 15, 2023
Story
Cardiff's big-mountain snow surfer designed for steep lines and all-time conditions, the Swell Enduro is the board for those out searching for the ultimate ride. The Swell's unique, ocean-inspired shape combines a wide, ultra-floaty tip, the gradual rocker of our HALFcamber™ design, 30mm of taper, and Cardiff's Wingpin tail—which makes for quick and nimble maneuverability in tight terrain—to create a board that rides the wave without the need to paddle out. For the Swell's original artwork, Sam Bawden expressed the board's dual inspirations of fine-tuned woodcraft and ocean-inspired performance.
HALFcamber™
The CARDIFF HALFcamber™ places camber where it is absolutely necessary and gradual rocker everywhere else. The result is maximum glide, maneuverability, and edge control.
PERFECTpivot™
Every Cardiff snowboard is uniquely designed to match the shape to the camber - resulting in a new standard of performance.
FLOATilla™
Big float, small board: by placing more surface area under foot and a gradual nose rocker the patent-pending HALFcamber™ allows us to create shorter boards with more float.
1
SURF tip and WINGPIN tail
Surf inspired nose that creates a smooth entry into and out of turns. The wings of the wingpin extend the effective edge and pull in to release the edge making quick side to side turns off the tail smooth and easy.
2
UNIwall + BOARDERpatrol
Seamless urethane sidewalls fuse to our cores to create the most durable and damp ride available - featured on the Enduro Series decks. All of our boards have poplar stringer backed sidewalls. This reinforces the edge while protecting the lightweight cores.
3
30MM of Taper
Placing more surface area in the nose and tapering it down through the tail allows the swell to get up and plane on soft snow without effort.
find your ride
The Swell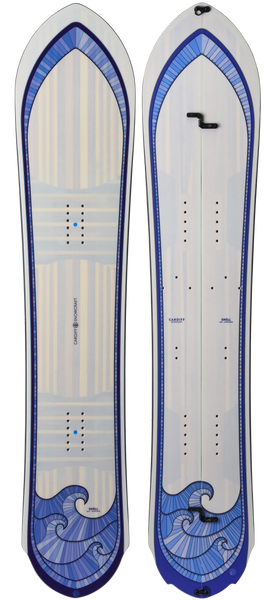 TERRAIN
BIG MOUNTAIN POW / INTERMEDIATE
The Cardiff Swell is a big-mountain gun that lives for the steep and deep but still holds it's own in variable, in-bounds conditions.
The Phantom Difference
PHANTOM is a permanent, one-time application base treatment that provides increased glide across all conditions. A disruptive, truly innovative solution that ushers in a new era in snowsports.

PHANTOM's patent-pending polymer technology offer ultimate convenience combined with great glide performance. Cured PHANTOM is an inert substance, meaning your skis or snowboard can continue to gilde while not contaminating the watershed.